Housing
Whether you are looking for custom-built new construction, an older home with charm, character and convenience or something a little different like a loft in a converted school - you can find it in Pittsburgh. Compared to most major cities Pittsburgh's housing costs are affordable. In fact in 2001 the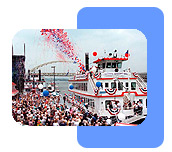 average cost of a home in Allegheny County was just over $112,000.
For renters the Pittsburgh region offers an abundance of choices as well. In the Downtown area renovated apartment buildings co-exist with new loft apartments and historic buildings. The 90 neighborhoods in the City of Pittsburgh offer unique options from converted warehouses to gracious homes with old world charm. In the suburban areas new apartment complexes with posh amenities like pools, on-site fitness centers and more are the norm. Finding a place with character in the suburbs can be more of a challenge, but it can be done.
Here are some quick facts about housing in the region:
In 2000 the most building permits (282) were issued in Peters Township, Washington County with an average value of $214,675.50.
Coming in a close second is Cranberry Township in Butler County with 266 permits with an average value of $141,263.22.
According to the latest U.S. Census data, Cranberry Township, Butler County saw the biggest population increase adding 8,809 people to the community.
In Allegheny County, Pine Township saw the greatest increase in new residents with 3,635 people moving to this community in the past ten years.