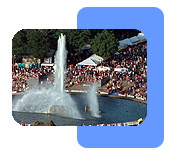 Choosing a Neighborhood
One of the most important parts of a successful relocation is finding the right community. Think about your lifestyle and the amenities needed to make you comfortable.
Do you want an urban or suburban area?
Is commute time important to you?
Do you want to be able to walk to the coffee shop, movie theater and even the grocery store?
Is public transportation available or important?
As you learn and explore more of the Pittsburgh region, use this handy worksheet to help you identify the differences in our many wonderful communities. Rank the following amenities using your own scale of importance.